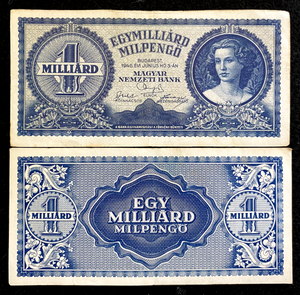 Hungary 1,000,000,000,000,000 Pengo 1946 P-131 Circulated Fine Banknote

You will receive circulated fine bill in similar condition as shown in the picture.
Please visit our store to see other country bills at nominal price. If you buy any other country bill, we will not charge you shipping cost. We will send you the other bills within the same package. 
Please let us know if you have any questions. 
Thank you!.