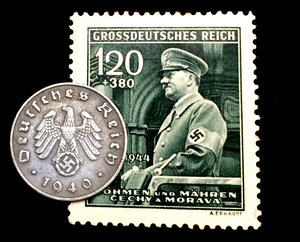 Rare Old WWII German War Coin One Reichspfennig & Unused Stamp World War 2 Artifact
This is a rare World War 2 historical German 1 cent coin.  You will get one coin per order unless you buy more than one coin in the same order. These are stock picture but you will get coin in the similar condition but of different mint mark. These coins are circulated and have metal aging marks. The year and mint mark in these coins are visible. The stamp is uncirculated and mint condition.
The zinc 1 Reichspfennig coin was minted in Germany between 1936 and 1945 during World War II, replacing the bronze version. It is worth .01 Reichsmark. Made entirely of zinc, the 1 Reichspfennig is an emergency issue type, similar to the zinc 5 and 10 Reichspfennigs, and the aluminum 50 Reichspfennig coins from the same period. 
Mass - 1.15 g


Years of minting -1937-1945
B - Vienna, Austria (Wien)

D - Munich, Germany (Munchen)

E - Dresden, Germany (Muldenhutten)
Please let us know if you have any questions about this item.
Note: The coin you will receive can be of different mints and years but in similar good condition.
All orders below $20 will be shipped via standard USPS post without a tracking number.
Note - This listing and all the other listings in our store neither support nor endorse any organization. These items are sold as historical artifacts meant for educational and/or collection purpose.
CollectorsCouch.com